Do You Fondue? – Today's Fondue Pots
Fondue is a great idea for entertaining, especially during the holiday season. I was searching for something on our For Bride And Baby site and I came across this wonderful article on Fondue and Fondue Pots great gifts for wedding or shower gifts.  But once you have a fondue pot, the holidays are a great time to remember to pull it out and have some friends over to enjoy it!
The article reminded me how today's fondue pots have changed a bit and are a lot more user-friendly than the messy ones of the 80's!  For example,  this Cuisinart model shown above has a separate ceramic pot that can be interchanged to offer cheese and then chocolate options!
Fondue parties lend themselves to a casual atmosphere so using paper party goods is a natural.

So now,  if I've got you thinking about having a fondue get together over the holidays this year, here are a couple of recipes to try:
Chocolate Fondue
Ingredients
3 ounces bittersweet chocolate, chopped
2 tablespoons heavy cream
1 tablespoon brewed espresso (see Kitchen Tip)
½ teaspoon vanilla extract
Pinch of salt
1 banana, peeled and cut into 8 pieces
8 1-inch chunks fresh pineapple
4 strawberries
FBAB tip: The chocolate will stiffen if it gets cold, so enjoy it while it's still warm. Skewer and dip anything you like'"pear slices, dried apricots, even marshmallows.
Directions:  Place chocolate, cream, espresso, vanilla and salt in a medium microwave-safe bowl; microwave on Medium, stirring every 20 seconds, until melted, 1 to 2 minutes.  Pour the chocolate mixture into a serving bowl.  Serve with fruit.
Cheese Fondue
Ingredients
1 cup dry white wine
1/2 pound shredded Swiss cheese
1/2 pound shredded Gruyere cheese
2 tablespoons all-purpose flour
1/4 teaspoon salt
1/4 teaspoon ground nutmeg
1 (1 pound) loaf French bread, cut into 1 inch cubes
Directions:  Simmer wine in fondue pot. Add Swiss cheese, Gruyere cheese, 1/4 pound at a time. Stir after each addition of cheese until melted. Stir in flour. When all the cheese has melted, stir in salt and nutmeg. Serve with cut-up French bread.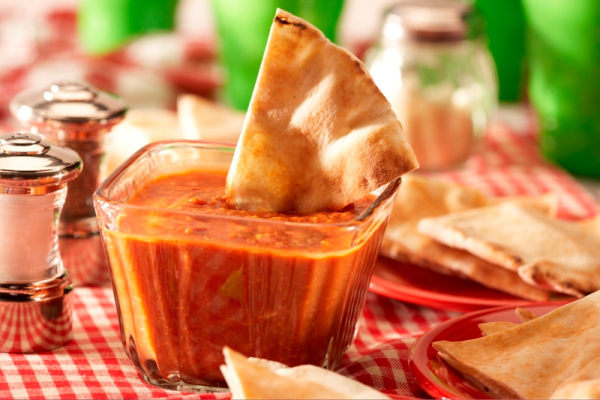 Kids love dipping the warm pita triangles in this fabulous dip. However you can also use it as a dip for chicken fingers, oven-baked fries, veggies or just about anything else.
Ingredients
2 tablespoons toasted breadcrumbs
1/4 cup milk
1 can (15 ounces) tomato sauce
2 slices pepperoni, finely chopped (optional)
2 ounces (1/2 cup) finely shredded mozzarella cheese
1 tablespoon Parmesan cheese (optional)
2 whole-wheat pita breads (each cut in 6 triangles), warm
Directions:  Simmer wine in fondue pot. Mix breadcrumbs and milk in a small bowl until fully moistened; set aside.   Combine tomato sauce and pepperoni (if using) in a small saucepan and heat to simmering. Stir in breadcrumb-milk mixture and simmer for 2 minutes, stirring constantly.  Remove from heat and stir in cheeses until melted.  Transfer to a serving bowl and serve with warm pita triangles for dipping.
Please share your tips, 'secret sauces' or anything else that will help anyone host a great fondue evening with friends!  And don't forget to check out the new, more updated fondue pots and accessories below: